Marine Canvas Fabrication & Repair
Top quality craftsmanship
We are known in the international market for high quality custom canvas produced in our local sail loft located in historical St. Georges. We have upholstered, custom covered and repaired some of the finest yachts in the world, and have built a reputation as the preferred choice for yacht owners, both sail and power.
Recent Clients & projects
o Dodger, Bimini, Mainsail and Sailcover for an Endeavor 40
o Dodger, Bimini, Sailcover, Life Raft Cover for Freedom 45
o Dodger, Awnings, Mast Boot and Rib cover for 'Spirit of Bermuda'
o Awnings & Dodgers for 300' Motor Yacht
o New Launch Cover, life raft Covers, New jib Cover, New Staysail Covers and Alterations to Main fore and Mizzen Covers for the 3 Mast Schooner Adix
o Machine Covers for Invisible Trenching
o Rain Cover for Sport Vehicle
o Awnings and Dodgers for a Classic Motoryacht
o Window Enclosures for Local Mainship Fishing boat
o Bimini and Consol Cover for 26' Worldcat
o 200 foot Classic Steam Yacht
o 200 foot 3 Masted Schooner
o Sailcovers and Deck Covers for 34' ketch
Fabrics.
The fabrics we use are based on durability, shade factor, water resistance, mildew and fade resistance and must be able to withstand the harsh elements. Sunbrella™ acrylics, Stamoid vinyls, Strataglass and PVC fabrics are some of the preferred choices. These fabrics incorporate our criteria and are pleasing to the eye.
Hardware.
We use 7/8"or 1"stainless steel tubing for our frame fabrication, rails and support structures for the marine trade. Our fittings are of the highest marine grade.
Custom Fabrication.
We will build you a superior product that is tailored to suit your personal style and individual boat's requirements. Through a multi step technique, we will create beautiful custom canvas using only the best fabric and hardware. There is nothing better in the market than custom canvas with it's quality far suparasing that of commerical products.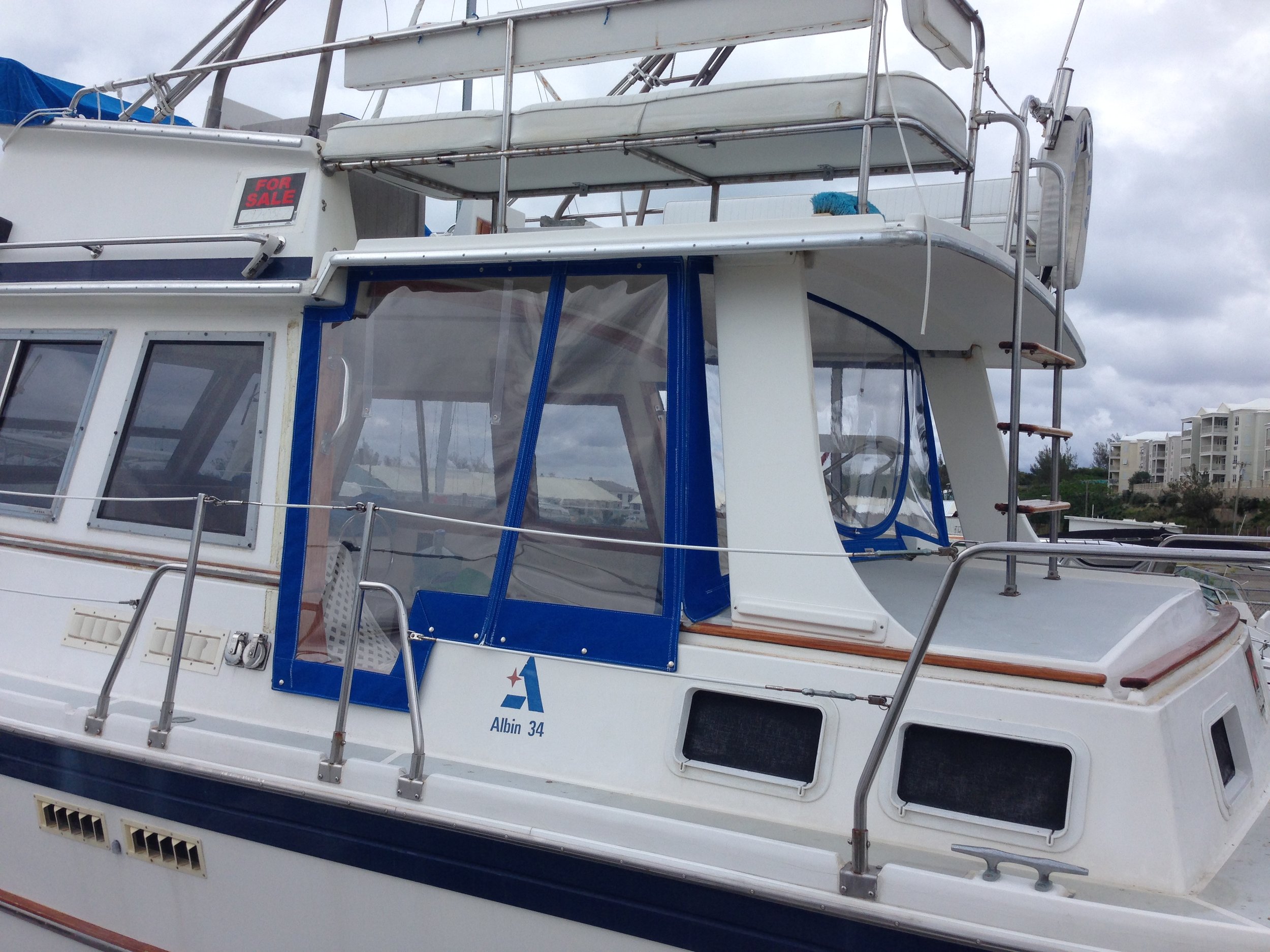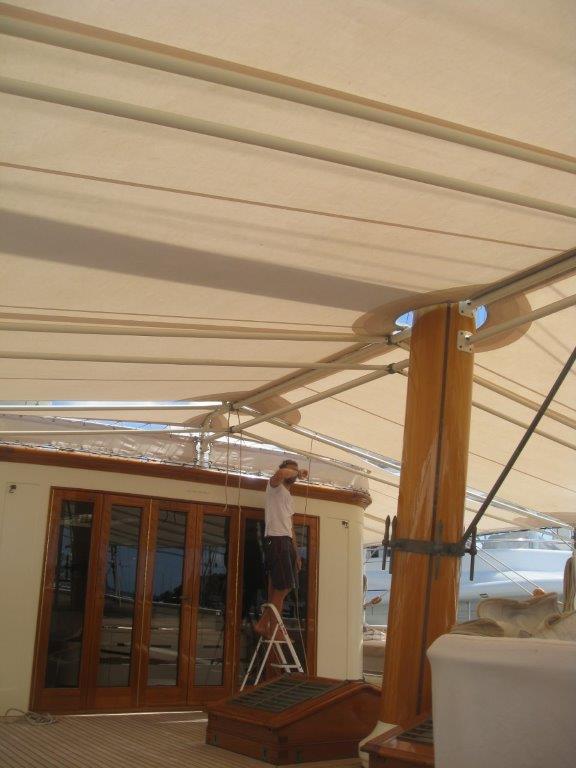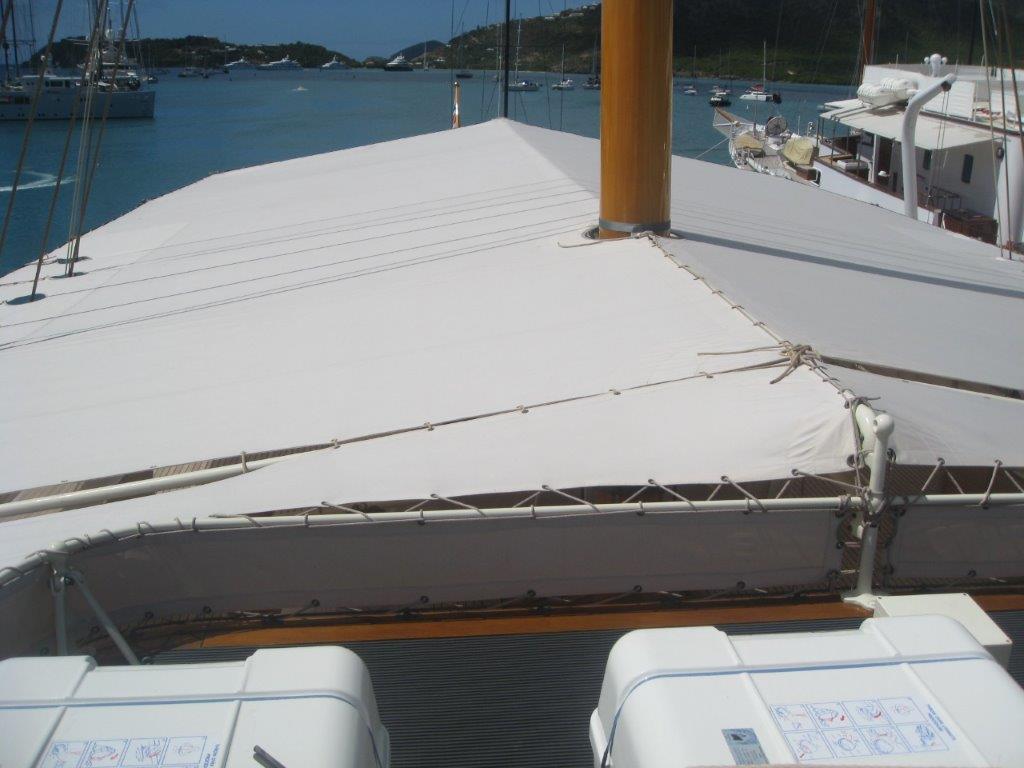 Upholstery
Ocean Sails specializes in producing a complete line of marine interior and exterior upholstery. We use only the finest in marine fabrics that are cleanable, stain-resistant and that will withstand the extremes of weather. We are pleased to now offer Perennials Luxury Performance Fabrics, that emphasize color and design without sacrificing livability and longevity.
We use only the finest ingredients including technologically advanced interior reticulated foam, high end Urethane and luxurious leather and suede. As members of the Industrial Fabrics Association International since 1999, we continue to evolve by constantly learning the latest technologies and fabrics.
As a part of this global organisation, we also adhere to an honor code that states in part: "We pledge to treat all stakeholders with dignity and respect, regardless of race, religion, gender, age, disability or national origin... We advocate conditions of employment that safeguard the rights and welfare of all employees of our companies."
Recent clients & projects
• Seat Cushions for Sport vehicle
• Seats and Seat Cushion for Golf Cart
• Cockpit Cushions For a Freedom 45
• Leather Interior for Swan 53
• Complete Exterior Upholstery for 26' Worldcat
• Interior Upholstery for Spirit of Bermuda
• New Outdoor Patio Furniture Cushions
• Exterior Cushions for Mainship 34
• Interior Cushions for Riva Calssic Sportboat